This document is a summary of the main components of the program as of July 10, 2020. La Ronde's health and safety plan is evolving and will be adjusted as necessary based on new directives from Public Health and the various levels of government. The safety of our visitors and our employees is our priority.
General Protocols
Require Guests to follow our Robust Health Policy
Prior to visiting the park, all guests will be asked to carefully review our health policy, which requires all attendees to have been healthy for at least 14 days prior to their visit.

Require all Guests and Team Members to Wear Masks
All guests over the age of 2 and all team members will be required to wear face masks covering the nose and mouth throughout their time on the property.
Screening Protocols
Perform temperature checks on our visitors.
We will be using state-of-the-art temperature reading technology designed to provide an efficient guest experience. A visitor who has a fever or refuses to comply will be denied access to the site.
Perform temperature checks on our employees.
Team Members will be screened for high temperatures when they arrive on the property. An employee who has a fever or refuses to comply will be denied access to the site.
Social Distancing Protocols
Check Daily Park Capacity
La Ronde will monitor daily attendance to ensure physical distance for each visitor.
Implement a New Park Reservation System
In order to reduce congestion at entrances and avoid contact between visitors, they will need to book their visit date and time of arrival at the park in advance via an online system.
Strongly encouraging guests to purchase parking in advance
The reservation will eliminate a transaction between employees and visitors.
Promote Distance in all Queues
Floor markers will be placed in queues at entrances, rides and restaurants, in aisles, restrooms and dining areas. Our security guards will monitor compliance with physical distance in the queues.
Promote the Distancing of Visitors in Dining and Rest Areas
The dining and rest areas will be reconfigured to allow a distance between the seated people.
Separate Guests on Rides & Attractions
Specific plans have been developed for each of the rides and attractions to reduce contact. There are plans to have empty rows or empty seats between visitors in the cars.
Reduce Indoor Facility Capacity
The capacity of shops, restaurants and service buildings will be reduced to ensure compliance with the 2m.
Separate Employees and Guests with Protective Equipment
Protective panels will be installed at service points where an interaction between employee and visitor can take place.
Minimize Guest Contact During Security Pre-screen
Checks will be made with a minimum of contact when necessary.
Train Employees Remotely
Our training will be accessible via an online platform to avoid groupings.
Sanitization and Disinfection Protocols
Introduce Cleaning Teams to Disinfect Common Areas
All contact points (eg chairs, benches, tables, garbage cans, etc.) will be disinfected regularly.
Provide Hand Sanitizer Stations Throughout the Park
We will have a large number of stations throughout the park offering free hand sanitizer to guests and employees.
Provide Hand Washing Stations for Guests Throughout the Park
We will provide guests with easy access to hand washing stations in the park's high traffic areas.
Continuously Monitor and Sanitize Restroom Areas
Staff will frequently disinfect the washroom facilities.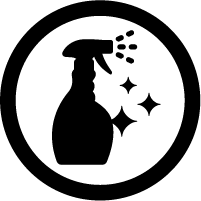 Continuously Sanitize & Disinfect Ride Units
Seats and restraints will be frequently disinfected by cleaning crews.
Continuously Clean & Sanitize Employee Work Areas
All employee work areas will be disinfected several times a day in accordance with CNESST directives.
Install Disinfection Stations in the Queues
Hand sanitizing stations will be installed at the entrance and exit of all queues.
Provide All Team Members with Personal Protective Gear
Each employee will receive a kit containing masks, gloves and safety glasses for use during working hours.
Disinfect Dining Areas and Changing Rooms
The dining areas and changing rooms will be disinfected frequently.
Quarantine & Secure All Food Service Items
All culinary service items (towels, food packaging, condiments, utensils, etc.) will be accepted in our warehouse, quarantined and secured before distribution and use in the park.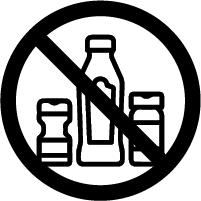 Eliminate Open-Access Condiment, Topping Stations
Ketchup, mustard and other condiments will now be securely stored and served to guests upon request.
Eliminate Self-Service Cutlery & Napkin Stations
Napkins, knives, and forks will now be securely stored and provided to guests with their meal, as required or on request.
Ensure that Only Unused Cups are Used at our Beverage Filling Stations
You will only need to show your 2020 Drink bottle and your drink will be served to you in a single-use container.
Change Buffet Service
Install physical barriers to avoid contamination of food served in buffet mode. The service will be performed by employees.
Signage & Communication
Newsletter Communication Program
Newsletters will contain information on how best to plan their visit to the park. Topics covered: new screening and security procedures at entrances, reservation system, recommendations for physical distance, sanitary procedures, etc.
Inform Visitors to Plan Their Visit
At the time of booking, visitors will receive various information explaining our sanitary measures to be observed during their visit.
Display Health & Physical Distance Guidelines
Several posters reminding people to keep a safe physical distance and good hand hygiene will be posted in a visible manner throughout the park.
COVID-19 Training for All Employees
All of our employees at La Ronde will have to take online training related to COVID-19. Topics covered: working safely, ensuring visitor safety, personal protective equipment, etc.